The Political Fragmentation of Germany: Formation of German States by Infrastructures, Maps, and Movement, 1815-1866 (Cham: Palgrave Macmillan, 2019).
This book analyses the development of German territorial states in the nineteenth century through the prism of five Mittelstaaten: Bavaria, Saxony, Hanover, Württemberg, and Baden. It asks how a state becomes a place, and argues that it involves a contested and multi-faceted process, one of slow and uneven progress. The study approaches this question from a new and crucial angle, that of spatiality and public mobility. The issues covered range from the geography of state apparatus, the aesthetics of German cartography and the trajectories of public movement. Challenging the belief that territorial delimitation is primarily a matter of policy and diplomacy, this book reveals that political territories are constructed through daily practices and imagination.
Waterloo Centre for German Studies Book Prize Shortlist for 2019, shortlist website
For purchase see:
https://www.palgrave.com/gp/book/9783030198268#aboutAuthors
Zef Segal and Bram Vannieuwenhuyze (eds.), Motion in Maps, Maps in Motion: Mapping Stories and Movement through the Time. (Amsterdam: Amsterdam University Press, 2020).
This volume argues that the mapping of stories, movement and change should not be understood as an innovation of contemporary cartography, but rather as an important aspect of human cartography with a longer history than might be assumed. The authors in this collection reflect upon the main characteristics and evolutions of story and motion mapping, from the figurative news and history maps that were mass-produced in early modern Europe, through the nineteenth- and twentieth-century flow maps that appeared in various atlases, up to the digital and interactive motion and personalised maps that are created today. Rather than presenting a clear and homogeneous history from the past up until the present, this book offers a toolbox for understanding and interpreting the complex interplays and links between narrative, motion and maps.
For purchase see:  https://www.aup.nl/en/book/9789463721103/motion-in-maps-maps-in-motion
Reviews:
Holtorf, C.: "Book review: Motion in Maps, Maps in Motion. Mapping Stories and Movement through Time", Geogr. Helv., 76, 77–79, 2021. https://doi.org/10.5194/gh-76-77-2021. 
Nelson, G.D.: "Motion in Maps, Maps in Motion: Mapping Stories and Movement through Time", Imago Mundi, 74:1, 126-127, 2022. https://doi.org/10.1080/03085694.2022.2044181. 
Zef Segal and Nurit Melnik, Who's Afraid of Numbers: Math and Computation for the Humanities (Raanana: The Open University of Israel, 2022).
Who's Afraid of Numbers is one of the first textbooks to tackle the barriers to entry into the digital world, to lift the veil of mystery surrounding concepts such as functions, algorithms and correlations and to provide the readers with an opportunity to engage with data in a way that is challenging yet meaningful and empowering. Step by step the readers are taken on a journey where mathematical tools and computational skills are interleaved in order to explore humanistic questions from diverse fields such as art, history and literature. The book rests on three essential and inter-dependent pillars: mathematics, computation and humanistic interpretation.
Who's Afraid of Numbers addresses these issues by providing a much-needed introductory textbook on mathematical concepts and programming designed for the humanities. As we elaborate in the following pages of this proposal, the concepts and techniques are integrated into what humanists do, which is study the past and present of human culture and history. The primary aim of Who's Afraid of Numbers is advancing computational and digital literacy by showing that each mathematical concept has a history, and each technique has a meaning. Rather than viewing mathematics and computer programming as purely instrumental, they are taught as means of achieving greater understanding of humanistic phenomena.
Zef Segal, Culture in the Age of the Enlightenment: Reshaping the Private Sphere (Raanana: The Open University of Israel, 2022) (Hebrew).
Reshaping the Private Sphere examines the interrelationships between society, economics and ideology through the cultural world of the men and women of the period. Accordingly, it reviews a large number of textual, visual, musical and architectural artifacts from the 18th century, belonging to different fields of art and culture. Each artifact is discussed both as a unique expression of its creator, and as a historical text that reflects the way in which art was created, traded and distributed in the 18th century.
The book focuses on five different aspects of what is known as the "private sphere": (1) Autonomy of the self; (2) Commercialization; (3) Nature and globalization; (4) Gender ; (5) Religious belief.
Although the distinction between the private space and the "public space" is not always clear, especially in the works of Enlightenment thinkers, it nevertheless serves as a means of focusing the discussion on the private lives of 18th-century people, rather than the institutions around them.
Dorinda Outram, The Enlightenment (Cambridge: Cambridge University Press, 2019). Published in Hebrew by The Open University of Israel, 2021. Scientific Editing and introduction: Zef Segal. 
Was the Enlightenment similar for both men and women, for the poor and the rich, for Europeans and non-Europeans? How has it affected common social phenomena such as slavery, and how has it been influenced by new phenomena such as world trade and European colonialism? The Enlightenment discusses these and other questions, presents the views of contemporary thinkers and also examines how its historical interpretations continue to change in the face of current socio-economic trends.
For purchase see:  https://sheilta.apps.openu.ac.il/pls/dlamdal/lamda.perut?p_katalog=108415043.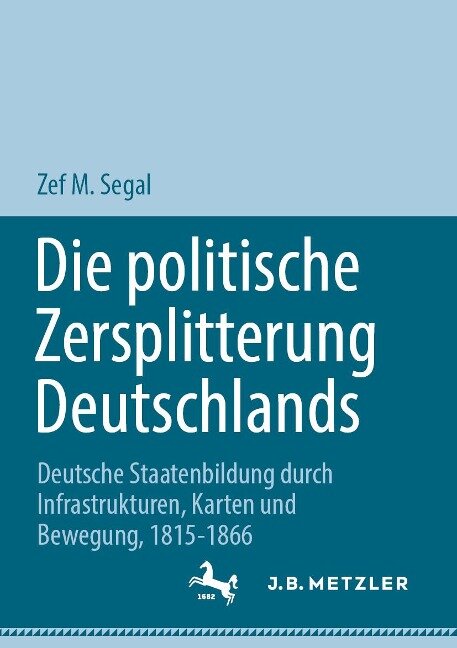 Zef Segal, Die politische Zersplitterung Deutschlands: Deutsche Staatenbildung durch Infrastrukturen, Karten und Bewegung, 1815-1866 (Springer, 2023).
Dieses Buch analysiert die Entwicklung der deutschen Territorialstaaten im neunzehnten Jahrhundert durch das Prisma von fünf Mittelstaaten: Bayern, Sachsen, Hannover, Württemberg und Baden. Sie stellt die Frage, wie ein Staat zu einem Ort wird, und argumentiert, dass es sich dabei um einen umstrittenen und vielschichtigen Prozess handelt, einen langsamen und ungleichmäßigen Fortschritt. Die Studie nähert sich dieser Frage aus einem neuen und entscheidenden Blickwinkel, nämlich dem der Räumlichkeit und der öffentlichen Mobilität. Die behandelten Themen reichen von der Geografie des Staatsapparats über die Ästhetik der deutschen Kartografie bis hin zu den Bewegungsabläufen der Öffentlichkeit. Das Buch stellt die Annahme in Frage, dass territoriale Abgrenzung in erster Linie eine Angelegenheit von Politik und Diplomatie ist, und zeigt, dass politische Territorien durch alltägliche Praktiken und Vorstellungen konstruiert werden. Die Übersetzung wurde mit Hilfe von künstlicher Intelligenz durchgeführt. Eine anschließende menschliche Überarbeitung erfolgte vor allem in Bezug auf den Inhalt.
Zef Segal, Culture in the Age of the Enlightenment, Introductory Unit (Raanana: The Open University of Israel, 2017).
The introductory unit of the Open University course "Culture in the Age of Enlightenment" provides a critical introduction to the social and economic aspects of the eighteenth-century European Enlightenment. The unit is divided into three parts: the first is a broad historical introduction to the Enlightenment and its intellectual origins; the second is a depiction of the economy of intellectual consumption in eighteenth-century Europe; the third part discusses the representation of women and foreigners in Eighteenth century culture.